The first meeting is a highly crucial starting point in which your team, including owners/shareholders, our team and everyone else involved in the project will put our ideas together and decide on priorities and/or steps to develop every aspect of your business.
We will decide on how to best approach the users and what they need. We will identify what features and functions bring value to your business and agree on how to implement these features in a versatile manner so as to be adaptable to changes and the forward motion of your business. Ideally you will then be able to distinguish features which have priority values or otherwise.
Going ahead, the brainstorming process does not stop after the initial meeting. We will continue to recommend changes and modernisations to keep up with changing market and to be as relevant as possible.
Feedbacks are given continuously and we will keep extending your ideas with our extensive technical and experience to solidify it into a practical and viable product. The steps involved in the completion of the software become lean as the time passes. Lastly, all the processes running at final stages are fully focused on developing the features and aspects that are actually needed on the software or an application and leave those good-to-have features to be developed at the end.

In the traditional approach, the developers, programmers and testers would only know about the unnecessary addition of a particular feature in software after it has been completed and all processes have completed. This is disappointing, as much effort and energy has already been wasted on the unnecessary aspect of the software.
Improving upon the traditional method, we pride ourselves on jumpstarting and maintaining your projects in a highly dynamic manner. The biggest advantage that makes our dynamic projects different from traditional methods is how you look at the change and respond to it. In addition, transparency and astute documentation is also a major plus that we're offering. User stories and feedbacks are dynamically documented as supporting data of the scoping process. If new requirements are introduced or a user story is to be excluded from the strategy, you always know that you have spent only a little time working on it while we take care of the technical particulars for you.

The first thing that will make or break any project as soon as it hits the market is the user experience and user interface. Modern users are unforgiving, and if the interface hinders their experience in the slightest, they will not hesitate to choose from millions of other apps available out there. We look at the user interface from all possible angles based on what is required by modern users in order to deliver a comfortable and compelling experience.
Despite acknowledging that UX/UI design is a huge part of the project, a lot of organization is still using the traditional method to work on the design; writing specs detailing every single interaction, working on full mock-ups to present to client for approval, all without understanding the business thinking behind the project. This painstaking process usually takes a long time and many wasted hours. By the time you have decided how your website or mobile app should look like, the market has already evolved.
When we start with your project, we will quickly prototype the few most critical, core user workflow and immediately push out to you and your users to validate if this meets the business needs. The design continues by collecting the feedbacks and iterating the design frequently and eventually through incremental changes and designing, we will be able to deliver a design that really matters.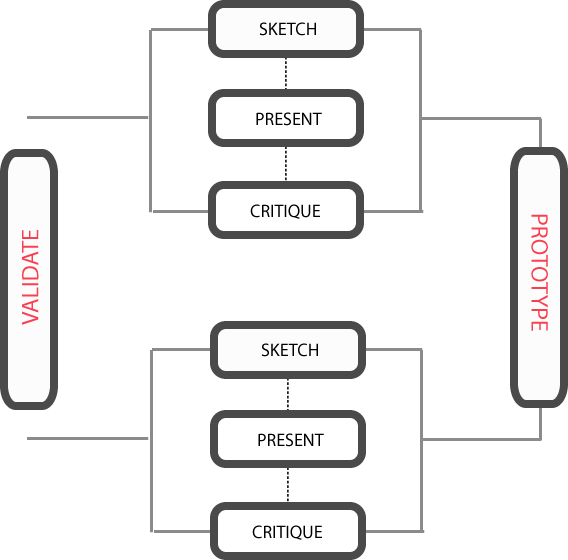 Your project should be a dynamic, ever evolving machine that continually absorbs user feedbacks as a basis to make necessary change. We believe the faster you get your feedbacks, the faster you can make changes, the faster we can push your web application or mobile application to the market to ensure immediate impact.

The development phase is where your ideas are being brought to life. Our development phase requires your team and our team to work in conjunction and maintain constant communication with each other so that even the smallest change can be acted on in a timely manner. We will constantly remain in contact with you and continue to update you with the latest progress on the development. This is done through small releases in order to obtain feedback from users and thus we will be able to develop what the users really need.
The quick releases are there to get a feedback from the owner of the project and end users and these feedbacks are closely viewed through iterations.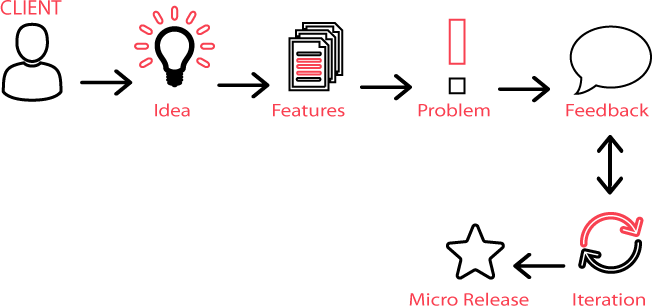 You get to test and approve the design and functionality along the way instead testing when the whole project is done. This mitigates risks and you are able to identify the failures early and you will be able to quickly work on it.Test driven development and refactoring are constant practices we use to ensure the codes are of the highest quality.
It is a mistake to think there will be no changes to the requirements after the initial groundwork is concluded. Within the course of a project's development, new requirements are discovered and thus change is inevitable, and we must be able to adapt promptly. Since our target audience is ever changing and never stand still, it is important to understand that a product is never considered complete since the user requirements will continue to change with time.
In the finishing stage, we plan, develop and test for whatever user stories we are working on now. This allows very fast feedback from the client and allows you to see which points we need to put more attention on early in the development so that we can minimize the risk of failure as soon as possible.

Here at Exquisite Media, we understand that you will need to alter your vision or project scope in order to keep up with the dynamic nature of the business. We believe your web and mobile applications are brought forward in the form of quick releases whereas changes are made into the software based on the feedbacks in the form of iterations.